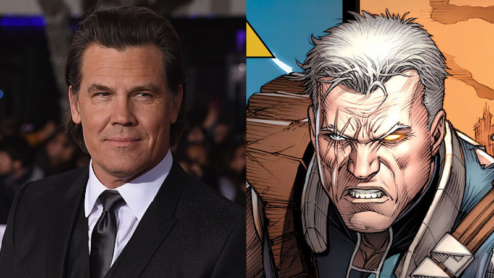 Diana Jaw
After months of speculation from Pierce Brosnan to Ron Perlman and others, The Hollywood Reporter has announced Josh Brolin's casting as the time-traveling mutant Cable for the much anticipated Deadpool 2.  Brolin, who continues to star as Thanos in the MCU, has signed a four-movie deal to portray Cable in the likes of Deadpool 2, X-Force, and other mutant movies in Fox's stable of Marvel heroes.
The production has been on the warpath to find the right actor for the role for months, with Michael Shannon almost nabbing the role and Stranger Things star David Harbour on the shortlist. (There were even rumors of conversations with Russell Crowe and Brad Pitt.)
In the end, Brolin emerged as a surprise contender, notching his second Marvel Comics character in the process; the actor plays the villain Thanos in the Marvel Studios movies. Sources say Brolin's deal is for four films.  
David Leitch is directing the sequel to Fox's surprise blockbuster, with the movie heading toward a June production start in Vancouver.
Reynolds is reprising his role as the wisecracking mercenary, with the story expanding to include other characters from Deadpool's corner of Marvel's X-Men universe.
Atlanta breakout Zazie Beetz has already been cast as the super-powered merc named Domino.
Cable was co-created by Deadpool co-creator Rob Liefeld and writer Louise Simonson and is described as being in many ways the opposite of Deadpool: a man who is a leader and used to being obeyed, and who is very controlled — but with an aura of simmering violence. In the comics, Cable was from the future and was the adult son of Scott Summers, also known as the X-Man Cyclops.