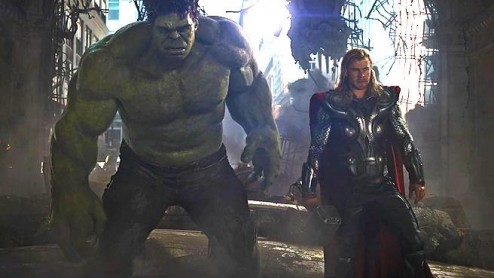 Joblo is reporting that the third Thor film will focus on an alien planet that is neither Earth nor Asgard with The Hulk as a major supporting character in the film.
Fans of Thor, Hulk, and "otherworldly" adventures, get ready to be happy.
The last time we saw ol' Bruce Banner/Hulk, he was flying off into the sunset in a Quinjet, which supposedly crashed in the ocean somewhere with no sign of the man or beast to be seen. This left a big question mark as to when or where the Hulk would reappear in the MCU prior to the obvious inclusion in THE AVENGERS: INFINITY WAR films. Well, wonder no more, my friends.
Hot on the heels of NYCC, we've gotten word from our inside sources that THOR: RAGNAROK will see Chris Hemsworth's Thor team up with none other than Mark Ruffalo's HULK for the Odinson's third solo film, which finds the God of Thunder facing what amounts to the Norse Apocalypse. Only this time out he'll have some help from a fellow Avenger.
Mark Ruffalo joins Tom Hiddleston (also confirmed by our sources) and Jaimie Alexander in RAGNAROK, which we've also heard will involve a "distant planet" that is "not Asgard and not Earth." What does that mean? Certainly the theory will be made that this is where Marvel will work in the long-rumored Planet Hulk storyline, and although we can't completely verify that, we can't completely deny it either. I'll leave it to you on how you want to place your bets, but I know where my money is going. Regardless, Ruffalo is on board. As to how much time he'll spend as Hulk vs. Banner, we can't say, only that he's absolutely part of the supporting cast and will feature prominently.