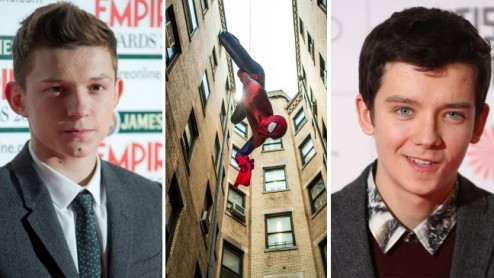 (Pictured above, Tom Holland and Asa Butterfield)
With production on Captain America Civil War already well underway, the clock appears to be ticking on Marvel and Sony to finally decide on their long-awaited choice to play Spider-Man in the Marvel Cinematic Universe.
The Hollywood Reporter summarizes the hopefuls, noting that earlier reports that Asa Butterfield had already been cast were premature:
According to sources, six teenage boys tested for the highly sought-after role in Captain America: Civil War and the follow-up films, one of the biggest "gets" for a young actor in the film business. Tom Holland, who appeared as one of Naomi Watts' sons in the acclaimed tsunami drama The Impossible, and Asa Butterfield, the child star from Hugo and Ender's Game, were the best known of the contenders. The other four hopefuls included: Judah Lewis (a relative newbie who will be seen in Jean Marc-Vallee's fall dramaDemolition), Matthew Lintz (who will be seen with Adam Sandler in this summer's Pixels), Charlie Plummer(who had a recurring gig on Boardwalk Empire) and Charlie Rowe (a British actor who appeared on Fox's short-lived Red Band Society).