Vanity Fair magazine brought famed photographer Annie Leibovitz to the set of Star Wars The Force Awakens to shoot some tantalizing behind-the-scenes images of cast and crew, including some revealing shots of previously unseen Adam Driver and Lupita Nyong'o in their roles for the new space opera.
We also learn for the first time that Nyong'o plays a motion capture CGI space pirate by the name of Maz Kanata.  Leibovitz shot all sorts of fantastic images, including a delightful look at the motley crew of space pirate characters that Maz Kanata keeps.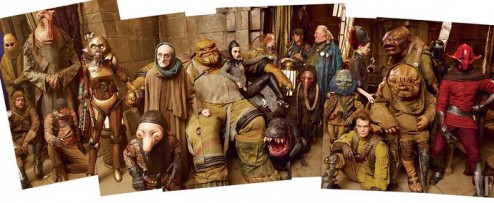 Galactic travelers, smugglers, and other assorted riffraff fill the main hall of pirate Maz Kanata's castle.
Photograph by Annie Leibovitz.


J. J. Abrams directs Actress Daisy Ridley for a scene in which her character, the young heroine Rey, pilots her speeder through a bustling marketplace on the planet Jakku.
Photograph by Annie Leibovitz.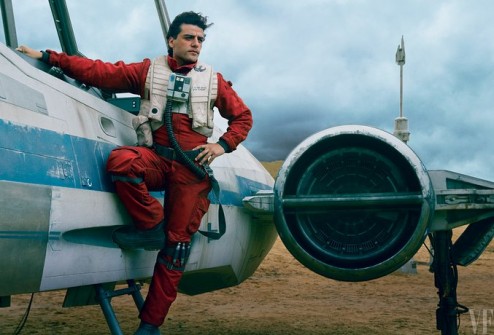 Dashing Resistance pilot Poe Dameron (Oscar Isaac) stands alongside his trusty X-wing fighter.
Photograph by Annie Leibovitz.


Next-generation bad guy Kylo Ren (Adam Driver) commands snowtroopers loyal to the evil First Order on the frozen plains of their secret base.
Photograph by Annie Leibovitz.


A small galaxy's worth of tracking dots affixed to Lupita Nyong'o's face allowed artists at Industrial Light & Magic to transform her into the C.G.I. character Maz Kanata.
Photograph by Annie Leibovitz.


Members of the brain trust behind The Force Awakens: composer John Williams, producer and Lucasfilm president Kathleen Kennedy, co-writer Lawrence Kasdan, and director and co-writer Abrams, photographed at Bad Robot, Abrams's production company, in Santa Monica.
Photograph by Annie Leibovitz.