By Long Thai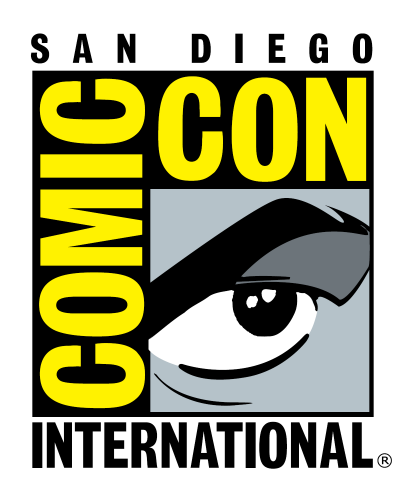 With the 2014 edition of San Diego Comic Con behind us, here's a good look at just a sampling of the great and beautiful cosplayers captured by Mineralblu Photography and Almost Nerdy!  A massive event occurring both inside and outside of the San Diego Convention Center, SDCC is one of the premier conventions in the country for all things proudly geek-related from comics & gaming to tv & movies and much more. Along with panels, seminars, and workshops with comic book professionals, there are previews of upcoming feature films, and portfolio review sessions with top comic book and video game companies.
First up, this a great video recap of the entire SDCC event from Thursday to Sunday.  The video captures a great deal of the insanity that is SDCC from beginning to end.  Packed to the brim with activities and exhibits for fans both inside and outside of the convention, SDCC is by far one of the most immersive comic convention experiences in the world.  Blink and you might miss out on the various celebrities making their appearances in this video as well all of the amazing cosplays such as the intense Apocalypse at 4:05!
Definitely among the highlights of SDCC every year is the fantastic cosplay that shows up each year, and 2014 was no exception.  The following are just some of the amazing cosplays that made an appearance at SDCC 2014!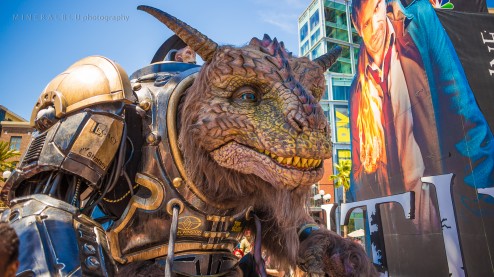 The design geniuses at Stan Winston School of Character Arts showed up to SDCC 2014 with this amazing original creation known as Bodock.  This 14 foot tall 2000 pound walking talking creature wowed spectators as it roamed about outside of the convention center.  Taking 6 weeks and 7,500 collaborative hours, the team of artists and engineers put together an amazing creature crafted using a wide variety of techniques, including more than a third of the design using 3-D printing.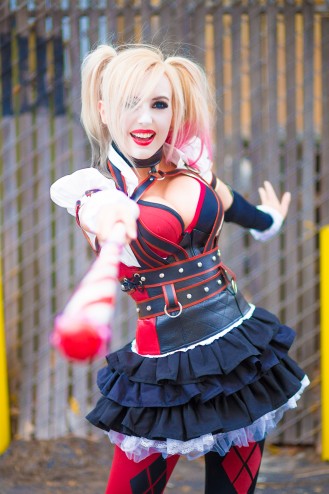 This particular Harley Quinn cosplay design (as worn by the much loved cosplayer Jessica Nigri) is by Arizona-based Maise Designs Seamstress (https://www.facebook.com/MaiseDesignsSeamstress), and is based on Harley Quinn from the highly anticipated Batman: Arkham Knight  video game by Rocksteady Studios and Warner Bros. Interactive Entertainment. The game's main storyline is set one year after the events of 2011's Batman: Arkham City and follows Batman, at the peak of his ability, as he confronts the Scarecrow, who has returned to Gotham City to unite Batman's enemies in a plot to finally kill the Dark Knight.  Batman: Arkham Knight is scheduled for release on PlayStation 4, Xbox One, and Microsoft Windows on June 2, 2015.




Atlanta cosplayers Monika Lee and Riddle's Messy Wardrobe appeared at SDCC 2014 as assassins for the debut of multi-platform video game Assassin's Creed Unity.  Set within Paris during the French Revolution, the single-player story follows Arno Dorian in his efforts to expose the true powers behind the Revolution.




Geek power couple Seth Hendrix and Raychul Moore from Los Angeles wowed SDCC 2014 with their cosplays of fan favorites Severus Snape from Harry Potter and Dante from Devil May Cry!


San Francisco Bay area cosplayer Chubear Cosplay impressed fans with her character accurate representation of post-Crisis Wonder Woman as designed by DC Comics Play Arts Kai Variant.


California cosplayer Sinne Doll represented classic heroine Red Sonja, the She-Devil with a Sword, at SDCC 2014 ready to do battle.
About the author: Long Thai
Profile:  Long Thai is a cosplay photographer and overall pop culture nerd based in Houston, Texas. Known as Mineralblu Photography (https://www.facebook.com/mineralblu), Long has traveled the country seeking out cool cosplayers to photograph at anime, comic, and gaming conventions.
Twitter https://www.twitter.com/mineralblu
Facebook https://www.facebook.com/mineralblu
Instagram https://www.instagram.com/mineralblu